It's no secret that more Americans that ever before are struggling with weight issues. Put someone in a cubicle for 8 hours a day, subject them to some stress, throw some money worries their way and it's pretty likely they'll put on some weight. But when it comes to our kids, there's really not a good excuse for a healthy kid to become overweight. But there's a pretty obvious reason it's happening: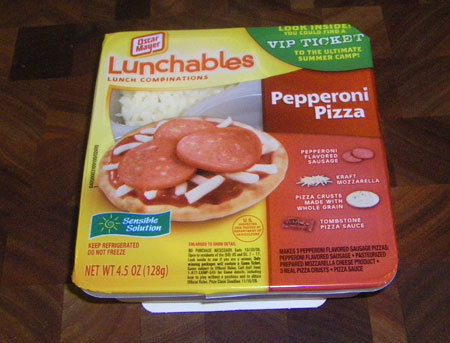 Pizza Anyone?
Bear and I were at the grocery store last night when we stumbled across these pizza Lunchables. This piqued our interest so we picked up a few other items that were marketed to kids as food. Let's see the results.
First the Lunchables. These were originally little cheese and crackers kits that were gross, but not too bad if you were in a pinch. Since their debut, Oscar Mayer has apparently stretched the definition of lunch a bit.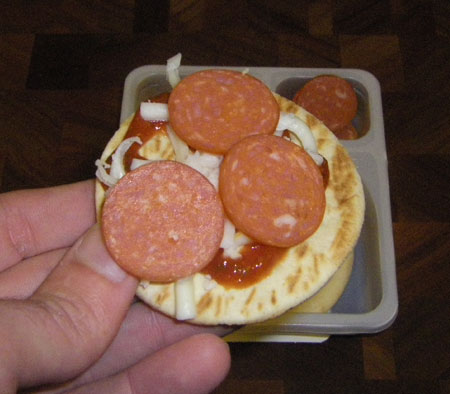 The kit comes with three whole grain pizza crusts, 9 pepperoni-esque sausage discs, a small wad of mozzarella cheese product, and a small plastic tube of Tombstone pizza sauce. The directions even boast "no need to heat," so you're welcome to just make your own cold miniature pizzas for lunch.
I tried it cold first and these things are disgusting. Cold pizza sauce smeared on cheap bread with fake cheese and sausage discs just isn't my definition of food. I took a couple small bites and that was all I could do. But I figured that there's no reason these would be good cold, regardless of the quality of the ingredients, so I decided to nuke one: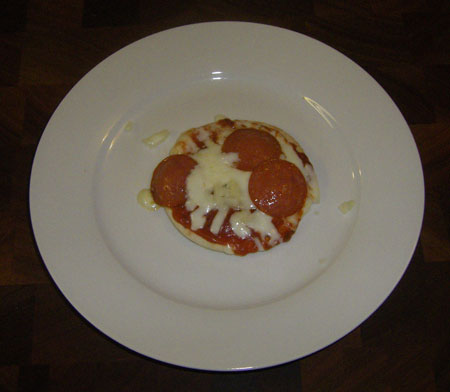 The warm version was better than the cold, but the main problem (aside from the cheese and sausage sweating all over the place) was the fact that these things were pure sugar. I know that kids crave things that we simply can't stomach as adults, but these things are repulsive and I don't think any kid would eat them cold.
But just in case they do, three small pizzas will net you 270 calories, 4.5g of saturated fat, and 25% of your sodium for the day. So unless you're eating brown rice for your other two meals, this probably isn't a good supplement to your diet.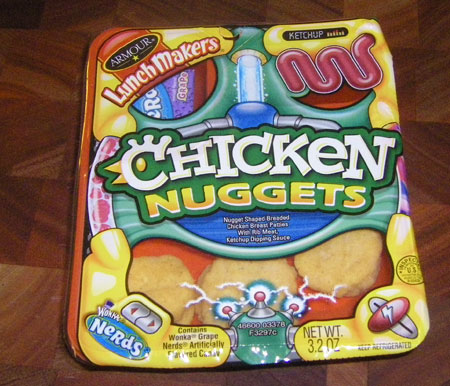 Up next is the off-brand version of Lunchables. This one is my absolute favorite because the packaging makes it sound like you're getting chicken nuggets for lunch (and kids love their chicken nuggets), but when you open it up: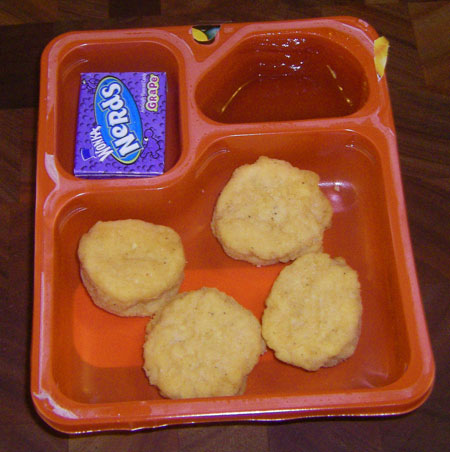 You get 4 tiny chicken nuggets, a pool of ketchup like dipping sauce, and a fun-size box of Nerds.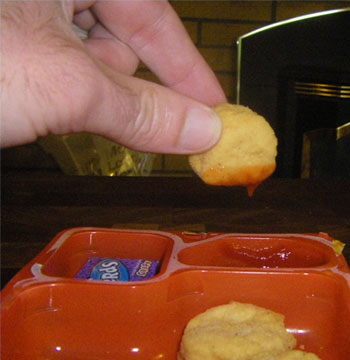 The nuggets don't taste
that
bad. They're basically miniature chicken nuggets that have been cooked and refrigerated in plastic for far too long. So basically kids and college students will eat these up. The ketchup is pure sugar and there are a few Nerds or dessert. But does it pass as lunch?
These aren't as bad as the pizzas. You're getting 200 calories, 23% of your sodium, and 1.5g of saturated fat. But the major problem is that even a kid is going to be starving after eating this, provided the cold chicken nuggets didn't totally ruin their appetite.
Up next we picked up a couple of boxes of Kid Cuisine frozen meals. These are great because they not only feature what appears to be Daffy's non trademark infringing cousin on the box, but they clearly display the food pyramid on the bottom, intimating that these are a good nutritional choice.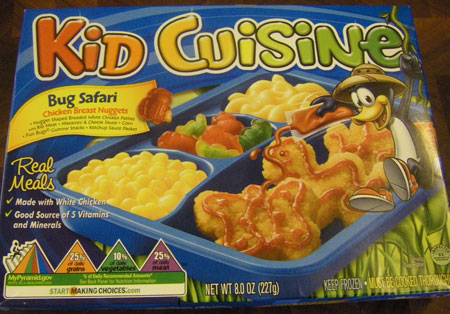 We started with the Bug Safari meal which was ready to consume after following the simple instructions: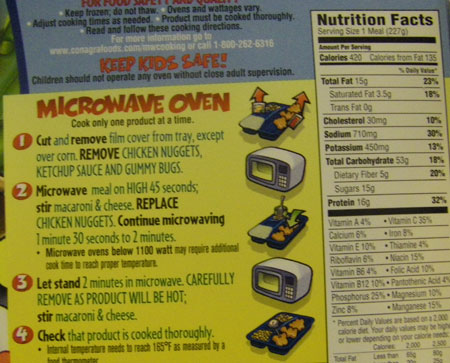 A few minutes later and you're all set to decorate your reconstituted "white" chicken nuggets with the tube of partially frozen ketchup sauce: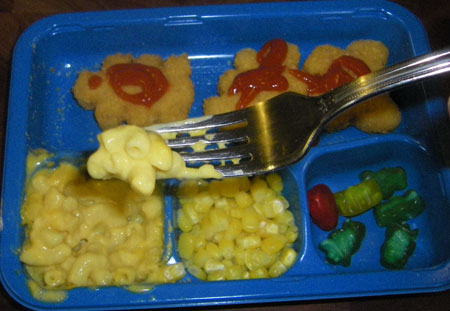 Like the package indicates, this is a true lunch safari. You've got bug shaped chicken nuggets, corn, mac and cheese, and gummy bugs for dessert. The mac and cheese is super salty and bland at the same time, the corn is...well forget that because there's no way a kids going to eat it, the nuggets are ok, and the gummy bugs taste like imitation fruit snacks and they're filled with slime. All in all, a kid would eat it (sans corn).
The end result is 420 calories, 3.5g of saturated fat, 10% of your cholesterol, but you are getting 20% of your dietary fiber and 32% of your protein. So is this one really bad for you? Probably not that bad, but you are getting enough salt to naturally preserve your child just in case the cholesterol causes a major heart attack when he's climbing the jungle gym.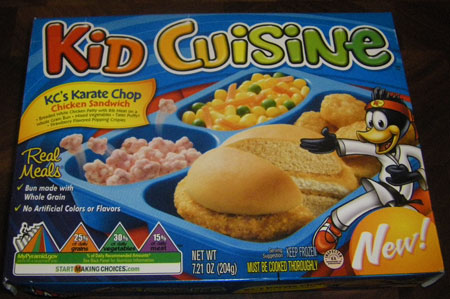 The chicken sandwich was up next. This one was called KC's Karate Chop and featured a chicken sandwich, tater tot thingies, vegetables, and some sort of strawberry dessert.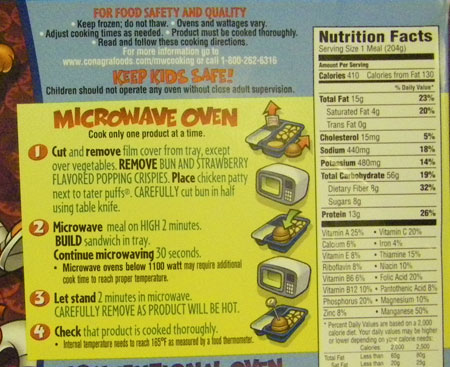 The preparation on this one was a bit trickier. You have to remove and slice the bun, cook, then assemble your sandwich and continue cooking. Basically, by the time you did this, you could have made a normal sandwich and a healthy side for your kid.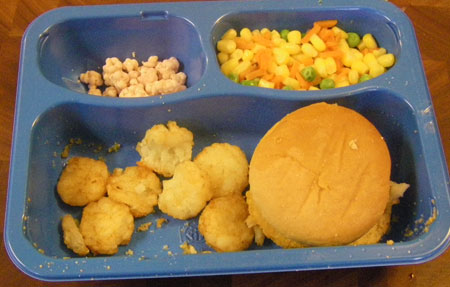 The finished result? Imagine taking a fast food chicken sandwich, letting sit for a couple of days, then replacing the bun with a Cinnabon. The bread is literally sweeter than a doughnut. I thought it was me until I discovered that the second ingredient in the bread was high fructose corn syrup. Can you even call it bread at that point?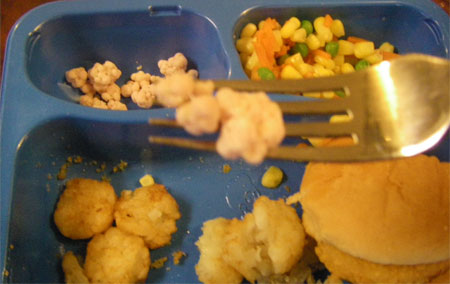 For dessert you get Strawberry Flavored Popping Crispies which are basically Rice Krispies that are covered in a sweet imitation strawberry yogurt and infused with Pop Rocks. I'm not joking, these thing started popping the minute they got wet in my mouth. In other words, kids would love them.
This one comes in at 410 calories with 130 of those coming from fat. You also get 4g of saturated fat, 15mg of cholesterol, and 18% of your sodium.
The thing that gets me here is that for the same money and time, you could actually prepare something much healthier for your kid.
So what's the cure for childhood obesity? I think it's actually pretty simple: If it's not food, don't feed it to your kids. Oh, and the stuff pictured above isn't food. It just flat out isn't. It might be fine in a pinch, but it's
not food
.
comments powered by

Disqus