Since returning to Portland, Bear and I have developed a keen interest in the city's history. Part of that stems from the fact that we live downtown so we're surrounded by the various monuments and historic architecture, but I think it mostly comes from the fact that, growing up in the OC, I witnessed most of the history there first hand: "You see these used to be open tracts of land . But then they built tract housing and a strip mall."
With everything that Portland has to offer in terms of local history and lore, the one thing that always stuck out to me were the drinking fountains. The downtown area is home to around 40 of these beautiful drinking fountains: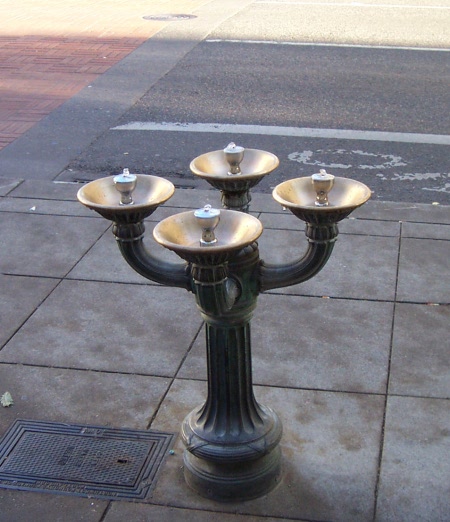 Benson Bubbler
The drinking fountains are so unusual that it really took some time before I was convinced that these were in fact actual drinking fountains. They looked too much like works of art to serve such a utilitarian purpose.
Aside from the awesome design, the other thing that sets these drinking fountains apart is the fact that they don't have any levers or buttons. Instead, they just run continuously; beckoning the thirsty all hours of the day.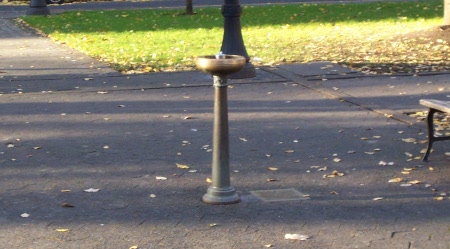 So why are there beautifully sculpted continuously running drinking fountains in downtown Portland? Well, there's actually an interesting story to this. You see, Portland used to be a rough and tumble city. It was widely known as one of the most dangerous port towns in the world and the reputation was well deserved.
Luckily the turn of the century brought some serious entrepreneurs who brought in real jobs and took some measures to clean things up. One of these men was Simon Benson, a lumber baron and philanthropist. Benson had made a fortune logging in the Pacific Northwest and by the time he settled in Portland, he had a series of successful businesses (the Benson Hotel in downtown was his creation).

Simon Benson
As if being a lumber baron wasn't enough (why don't we use such great terms anymore? Bill Gates is super duper rich but no one ever refers to him as a software baron...) Benson was also a teetotaller. The story has it that he was touring one of his mills when he noticed the smell of alcohol on his workers' breath. When he inquired into why they were sauced in the middle of the afternoon, they replied that there was no fresh water available so they drank beer. Not that I would recommend trying that the next time the office water cooler runs dry.
Benson wasn't real keen on this, so he commissioned a series of public water fountains in 1912. The fountains were such a hit that the consumption of alcohol reportedly dropped by a whopping 25 percent in the years to come and today there are approximately 40 Benson Bubblers in downtown today.
Benson eventually retired to the Los Angeles area where he died in the 40s, but his legacy in Portland still lives on today with the Benson Hotel, Benson Bubblers and his house which serves as a welcome center for PSU: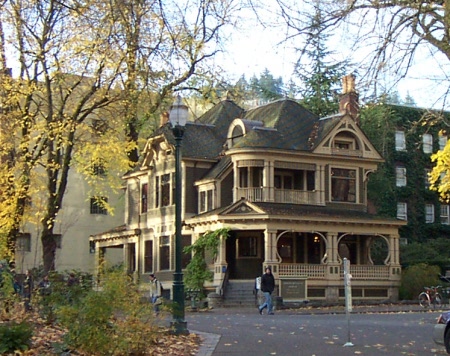 The Benson House
So next time you're in downtown Portland and find yourself in need of refreshment, just look to the nearest street corner and quench yourself at a Benson Bubbler.
comments powered by

Disqus