No matter where you live in America, you have access to an amusement park, even if you're living in Oregon. While we may not have a Disneyland or Six Flags, the northwest does have The Enchanted Forest. They claim to be Oregon's premier theme park, a challenge we just couldn't refuse. So to put their claim to the test, we loaded up Bear's car and headed south to Salem for an afternoon of serious theme park scrutiny.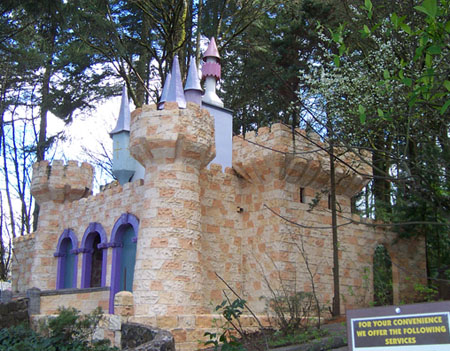 Upon entering The Enchanted Forest, you are forced to make your first big decision. Unlike other amusement parks, they're keeping it old school here and offer you two admission choices: you can pay your $8 for admission and then pay as you go for rides, or you can pay your $8 for admission and then purchase a wrist band that entitles you to unlimited enjoyment of their attractions. Fortunately, we had a mathematician in our group who quickly deduced that we should pay as we go because you had the ability to return any unused pay-as-you-go ride tickets at the end of your stay. I'm still unclear as to what method he used to reach this conclusion, but I'm sure that Bentham would have been proud. So, armed with a pocket full of ride tickets, we began our journey into The Enchanted Forest.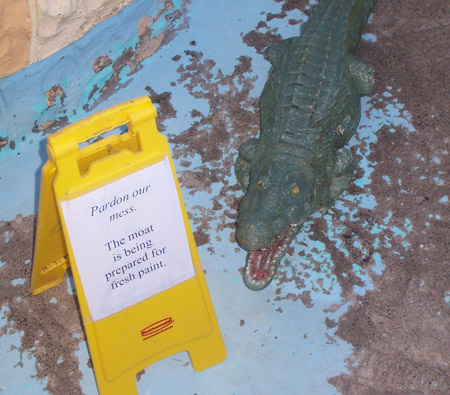 The first thing you encounter when you enter the park is a sign instructing you to start your Enchanted Journey at the park's storybook castle (complete with a moat being prepared for fresh paint). Accompanied by a never ending loop of enchanting music, you enter a world where, as the website puts it, "your favorite storybook tales come to life." The Storybook Lane was the park's first attraction and it definitely has a feeling of enchantment. It consists of scale models depicting famous scenes from fairy tales. It's here that you instantly remember just how gruesome most fairy tales were and The Enchanted Forest doesn't gloss over this fact like Disney does- they tell it like it is.
They have all the classic tales reinacted with primitive audio-animatronics and sculptures where you get to see little children being tortured by cannibal witches, accidental poisonings and the seven dwarf's diamond mine (these are the Forest's own proprietary dwarfs, not the ones copyrighted by Disney).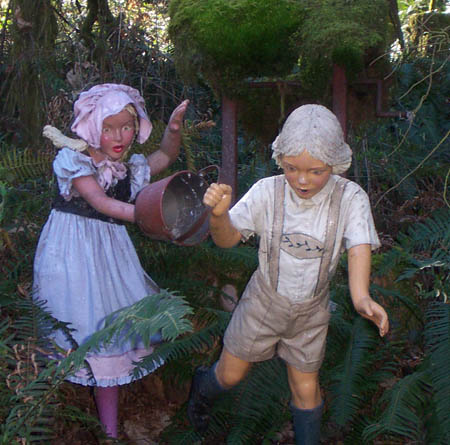 Jack and Jill meet their maker


Although the website claims that the park is an original creation, the place bears certain similarities to Disneyland. This was especially evident in the rest of the park. So Disney has the Matterhorn Bobsleds, big deal, The Enchanted Forest has the Ice Mountain Bobsleds. Did someone say Frontierland? How about Western Land. Haunted Mansion? How about he Haunted House. You get the idea: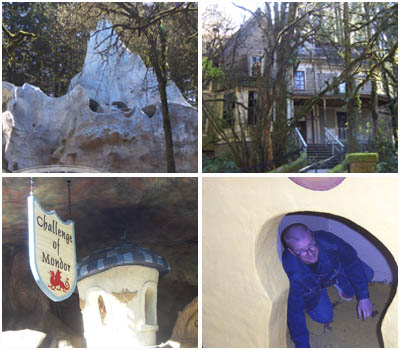 The rides offer guests a chance to meet their's too
The rides are totally out of this world. I think my favorite had to be the Ice Mountain Bobsleds. It starts out with the same look and feel of as the Matterhorn, but once the sleds make their initial climb you're quickly disabused of drawing any further comparisons. Instead of seatbelts, the teenage ride attendants put you into the sled and then slam a plastic lid (it has holes for ventilation, a latter addition I hear) over you and then you simply hope for the best. The ride jerks you back and forth as it makes its descent from Ice Mountain and, before you know it, you're back at the starting point rattled but no worse for the wear.
But the most entertaining ride had to be the Challenge of Mondor. It's a new take on the dark ride and the park's newest attraction. Like a dark ride, you sit in a car and enter a mystical world of audio-animatronics. The only difference is that they arm you with a laser gun and let you fire away at targets. Of course, being in Salem, the sign welcoming you to the ride even allows you to bring your own gun! Suck it Disney: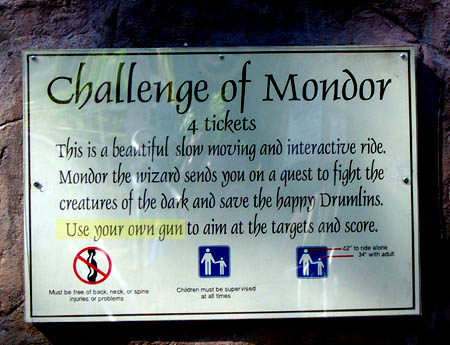 NRA Approved


Unfortunately, I had left my piece in the car, so we had to settle for the laser guns they provided for us. Though I think the ride would have been more entertaining had I remembered to bring my Glock. But if the rides aren't perilous enough, remember that all this enchantment takes place in Salem, so there's also the other park guests. I captured a pic of this proud dad and his brood standing in front of us in line for Ice Mountain:

Family Friendly Fun
I think they give discounts for volunteer firefighters, but you'd have to confirm that at the door. But with so much excitement, we decided to take a brief sojourn over to the English Village for refreshment. The English Village is a small avenue of English looking buildings with the same sort of creepy audio-animatronic displays as the Storybook Lane. The major attraction here is the Free Water-light Show which is a complete 7 minutes of fountains performing to music. I think it was the impetus behind The Rentals' album Seven More Minutes, but you'd have to wikipedia it to be sure.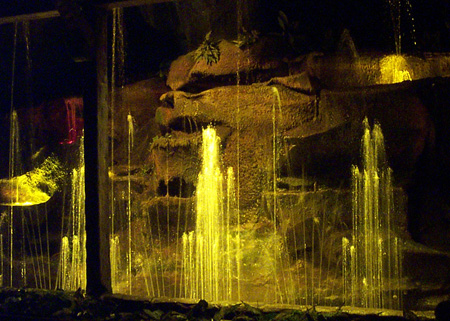 Seven More Minutes...


The water show takes place in the dining room of the Jolly Roger Inn, so you can watch it while enjoying a plate of nachos. Bear wouldn't let me get nachos, but I think the experience would have really been enhanced by cheese.
I did get ice cream though and it was not only good, but reasonably priced and hygienic as the guy working the counter would wash his hands after EVERY single scoop. Granted, it took forty five minutes to get served, but we all enjoyed our cones with a peace of mind you don't get at 31 Flavors. They even let the lady in front of us order half a sno-cone (after calling up to management to approve the transaction). It's the kind of service you just can't get at Disneyland.
We then ended our stay with a trip on the "Northwest's biggest log ride" where the attendant assured us that putting four adults in one log meant four times the fun. If by fun you mean four times the brown water overflowing into your log because it's sitting just a little too low in the water. After that, we all walked stiff legged in our soaked jeans back to the car and said goodbye to the Enchanted Forest.
So is The Enchanted Forest
really
Oregon's premier theme park? I think I could safely say that it is. Not only is it a theme park in the true sense of the word, but the fact that it is family owned means that they won't gouge you at every turn. It's affordable and what they don't offer in the way of attractions is made up for with the family owned experience you won't get at the bigger places. That and it is also the
only
theme park in Oregon...
comments powered by

Disqus