In today's world where bigger means better, it's refreshing to come across something renowned for being the world's smallest. Superlatives aside, Mill Ends Park is recognized by the Guinness Book of World Records as the smallest park in the world which is pretty neat since it's located right here in Portland, Oregon.
Bear, Gertie, and I all decided it was time to venture out and visit this Portland landmark. The park itself is located on the banks of the Willamette river in the downtown area of the city. This was interesting because we've walked along the waterfront several times and never noticed the park...it's that small: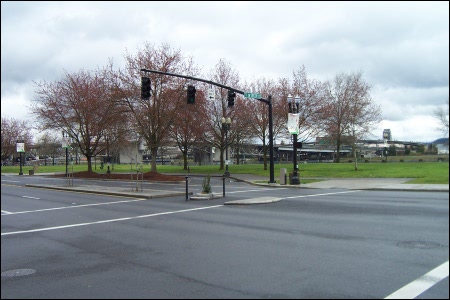 Mill Ends Park


In case you're wondering, the park is the not the greenbelt located at the far end of the street- it's right there, in the middle of the street: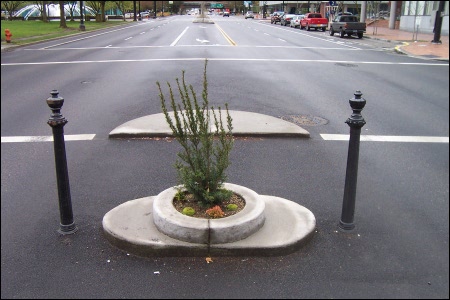 A Closer View


According to the
Portland Parks and Recreation
website, the park was founded by a journalist by the name of Dick Fagan who got back into the newspaper business after returning from WWII. Mr. Fagan's office gave him a view of the street below where he noticed a hole that was put in the street for a utility pole.
When they failed to place the pole, weeds started growing. Mr. Fagan started planting flowers in the hole (perhaps to enhance the view from his office window) and called the little oasis Mill Ends Park. He went further and started writing about the leprechauns and other happenings in
the world's smallest park
and the idea caught on with his readers.
The park was first dedicated in 1948 and was officially adopted as a city park in 1976. Since that time, it has long been the site of St. Patrick's Day celebrations, various stunts such as installing a miniature ferris wheel with a full sized crane, and other local happenings.
Mr. Fagan continued to write about the park until his death in 1969 and there is a small plaque (located safely on the sidewalk) where you can read about the park's history: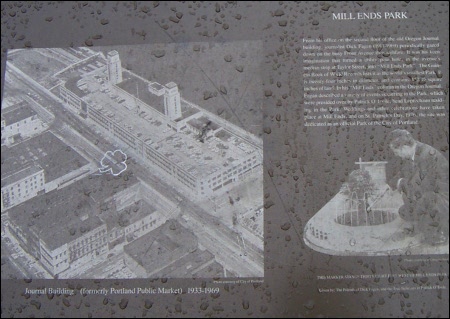 Mill Ends Plaque


If you ever find yourself in downtown Portland, be sure to walk down to the riverfront and pay a visit to the smallest park in the world.
comments powered by

Disqus