Sharing an apartment with a beagle can be a little frustrating at times. There's not a whole lot here to distract Gertie so we rely on lots and lots of walks to keep her occupied and well behaved during the day. Because a bored beagle is a sure fast way to ensure that something you treasure will be destroyed.
To this end, we've been trying to find new places to walk and this summer we found a great little park that's only a mile or so from where we live. Located in Northwest Portland, Macleay Park is a quiet hideaway that joins up with the Forest Park trails (I think that Forest Park is the largest urban park in the country, but I could be wrong - though it would be a neat distinction considering that
Mill Ends Park
holds the record for being the smallest park...parenthetically speaking). The bottom line is that if you live in Portland and need to getaway without driving, Macleay Park is a safe bet.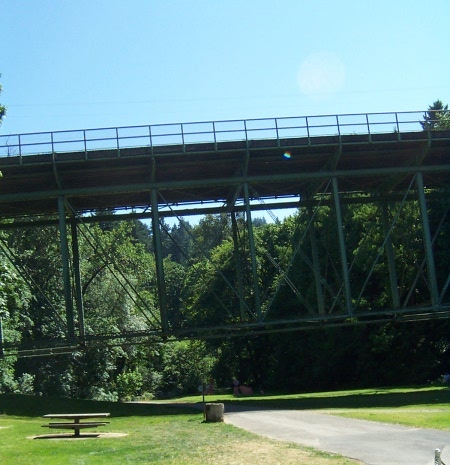 The Macleay Trail starts at the park itself which is pretty small. I know, you're thinking "hey Mark, you said this was an interesting place, but all I see is a typical city park that doesn't look like a whole lot of fun." Hold your horses, we'll get to the cool stuff in a second. Now to catch the trail, you just walk 50 yards or so underneath the bridge. But before you do that, you'll want to look to the front left hand side of the park to find the historical marker (it's right next to the house there by the sidewalk).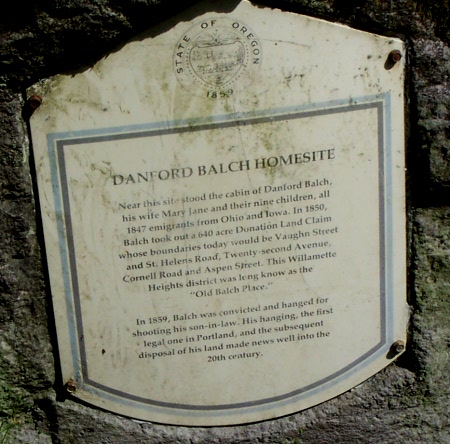 Historical Marker
Yeppers, Macleay Park is the site of the Old Balch Place. Danford Balch made a footnote of history by holding the distinction of being the first person to be legally hanged in Oregon after being convicted for shooting his son-in-law. I'm beginning to suspect that every building, park, and bridge in Portland is connected to something horrific, but that's another story.
"Mark why are you always looking for the macabre, you said this was about a park or serenity or something..."
Sorry for the digression. Anyhow, just walk underneath the bridge and in a matter of seconds the plain grass park turns into a steep ravine that houses Balch Creek.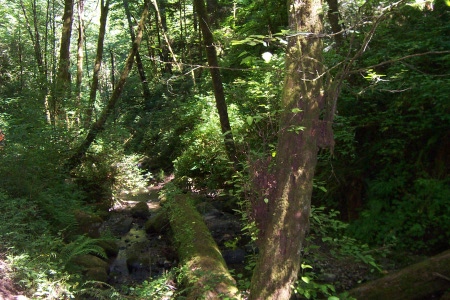 Upper Macleay Trail


The first part of the trail (roughly a quarter mile) is paved and even and handicapped accessible. From there, it gets a little uneven, but it's still an easy hike. It's really nice during the summer because the steep walls of the ravine, canopy of trees, and rambling creek keep it nice and cool.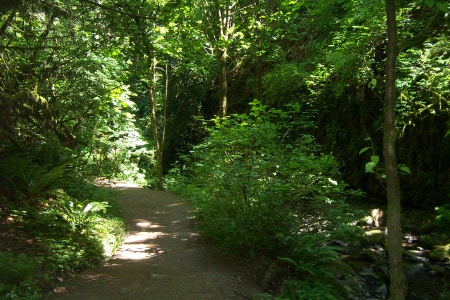 Balch creek is home to some interesting aquatic life including native trout and salamanders - but it's protected so no swimming or fishing or dumping of toxic waste.
This particular trail goes up to the Audobon Society which is also a great place to visit. There are also other trails that connect to this one so you can keep going for miles and miles if you want...
About half way up the trail you'll come across the Stone House: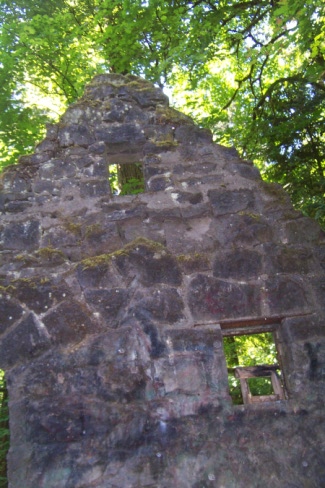 Stone House or Witch's Castle?
I have to admit that this is a bizarre sight to come across the first time you walk this trail. Some people refer to this as a haunted place, nicknaming it the Witch's Castle...I've even read stories online that it was an old trading post and there are all sorts of supernatural happenings here. The fact of the matter is that it's an old restroom that was built by the federal government during the depression and later destroyed by a flood in the 1960s. (note the classic new deal era architecture - it sure beats the porta-potties they install now).
The trail meanders by the creek for about a mile before joining some of the larger trails in Forest Park...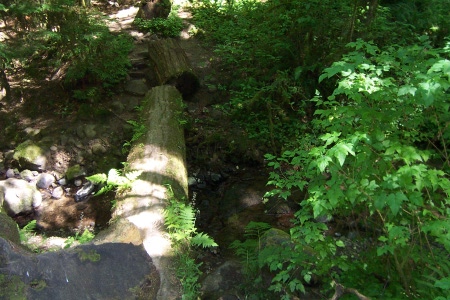 Balch Creek
After a couple of miles or more (if you take the Wildwood Trail at the Stone House, that's a great trail too and you can go for miles), you forget that you came here from the city that is just down the street and Gertie is a happy hound: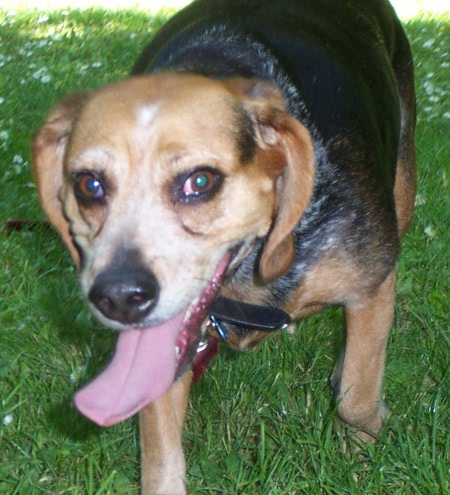 Just FYI, Bear and I have found that it can be difficult finding trail heads in Forest Park, so I've included a snapshot of the map to Macleay Park and the Trail itself: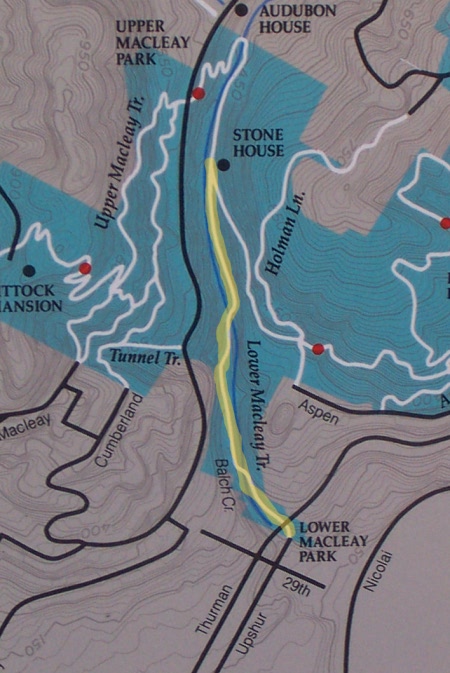 Trail Map
If you are headed there, the trail begins at NW 29th and NW Upshur (just a bit up the street from there). But Upshur disappears for a bit, so we usually take NW 25th down to Upshur where it picks up again.
comments powered by

Disqus