As a kid there was always something special about the roller rink. The combination of skating under the disco lights, the video games, and the kid friendly snack bar food were great, but throw in the fact that your parents could just drop you off for a session with some friends and you really had something going. As a kid, I spent countless hours at the local rink. I wanted to work there when I was old enough. After all, who doesn't command respect in the referee styled uniforms the floor workers wear? And to be the DJ? That would be even better.
Well, it had been a good twenty years since I last skated, so we decided to head to
Oaks Park
for an afternoon on the wood: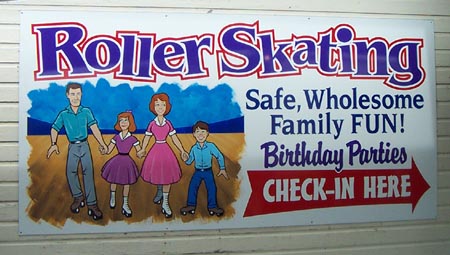 Oaks Park is definitely a little different from the rink I used to skate at as a kid. For one, it's really old. It's also massive. And they have an actual Wurlitzer pipe organ.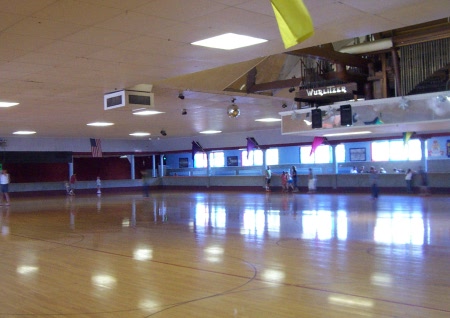 Aside from that, it's also very similar. It definitely has the same smell as every rink I've ever been to, some sort of combination of sweaty feet and the snack bar. It's quite the aroma. I think the rental skates are also the same ones they had when I was a kid. Only I didn't wear a size 13 back then:
But they are just as uncomfortable. Getting back into the groove of skating wasn't too hard. You just have to remember to lean forward and the rest sort of works itself out. And don't treat skates like Rollerblades, the motions are entirely different. Oaks Park is a great place to skate because the floor is so massive. It gives you plenty of room to keep away from the kids, and the center area is large enough to roller disco, if you're so inclined. We went on a Sunday, so they were actually playing organ music instead of the usual fare of Debbie Gibson and Bon Jovi, though they may have updated their selection since I was last there.
Even with the lack of disco opportunities, there is something really strange about skating to organ music. Everything just kind of sounds creepy coming from the organ. Which sort of makes sense considering that the only two places you ever hear pipe organ music are church and the carnival, which are both creepy in their own unique way.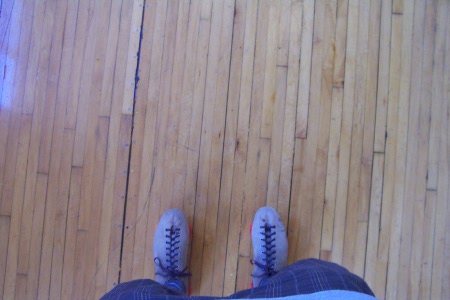 A much farther fall
But considering that the rink has to be close to 100 years old, there's also something kind of neat about skating to the old fashioned organ music. It makes you feel that you could be sucked into some sort of Stephen King like vortex at any moment where you find yourself surrounded by gents with fancy moustaches and women in knee-length skirts. They even have pictures along the rink that show you what it looked like back in the 20s. But like most rinks, they now keep it preserved true to its appearance in 1978, complete with the disco ball and carpeted walls.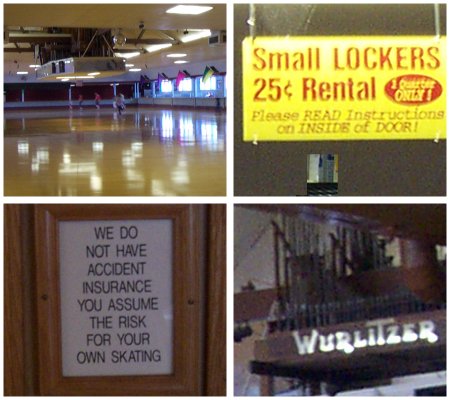 Don't forget your locker key
When the blisters start to eat through your feet, you can even take a break and enjoy a deep fried snack in the snack bar, or retire the video arcade for some merriment. but don't be too long or you might just miss the hokey poky and that's really what the day is all about.
After spending an afternoon at the rinks, Bear and I were definitely fired up about going back. Maybe next time we'll get to participate in the couples skate.
comments powered by

Disqus