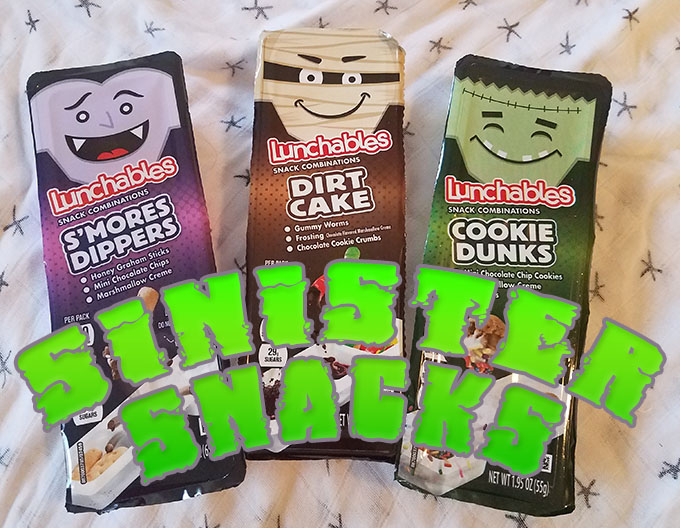 I don't know about you, but I really feel like Halloween is off to a terrific start this year. We're finally feeling settled in our new home, the decorations are up, the treats are out, and I have some great things I want to share with you. But I also want to finish strong this year. After all, there's nothing worse than losing your Halloween spirit before the 31st.
So maybe a little snack is in order. Just enough to top off the tank. Well, good news because Lunchables has it covered with their Halloween themed Snack Combinations.
I love the packaging on these, they went old school this year with some iconic, but always welcome, faces.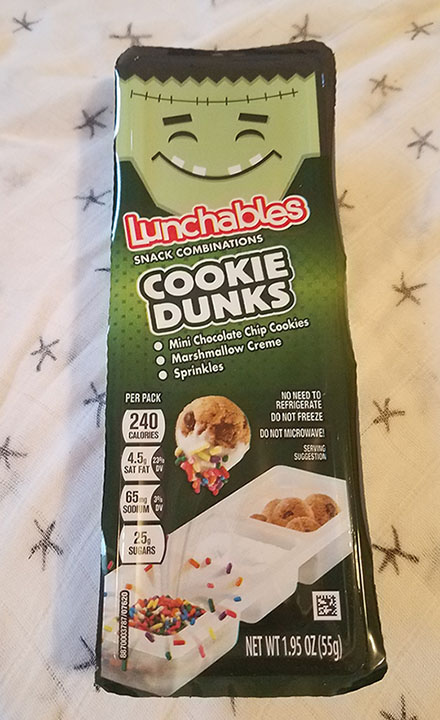 First up are the cookie dunks. The premise to these things are all the same. You take your main
snack
which, in this case, is mini chocolate chip cookies and your provide some accompaniments. It's like carrot sticks and ranch, celery and peanut butter, pita chips and hummus. Except this is Lunchables, so it's mini chocolate chip cookies, marshmallow creme, and rainbow sprinkles. Each conveniently packaged in their own separate compartments. And no, this isn't dessert, it's a snack- it says so right on the label.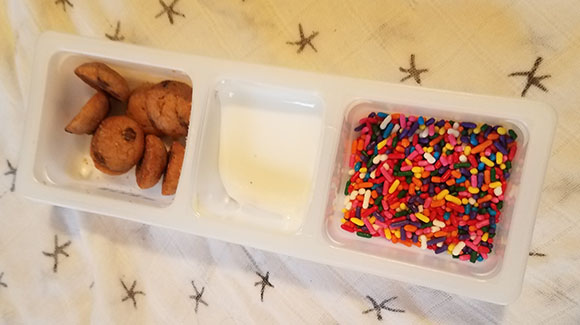 But we're into holiday season now, the final quarter of the year, so let's not get hung up on the nutrition because it's probably far from the worst thing any of us will be snacking on come December.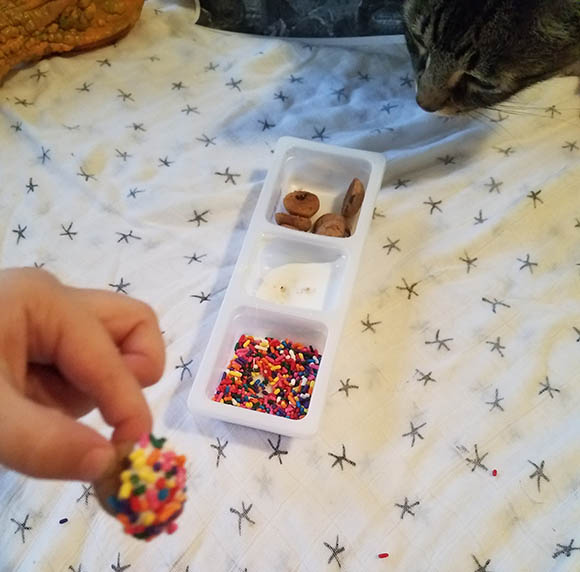 Plus, they've got Frankenstein's Monster on the front. And sprinkles. I'm pretty all of these offerings are available in their civilian clothes year round, so while the monster is a great addition to your October pantry, they could really have gone the extra mile here with some black and orange sprinkles.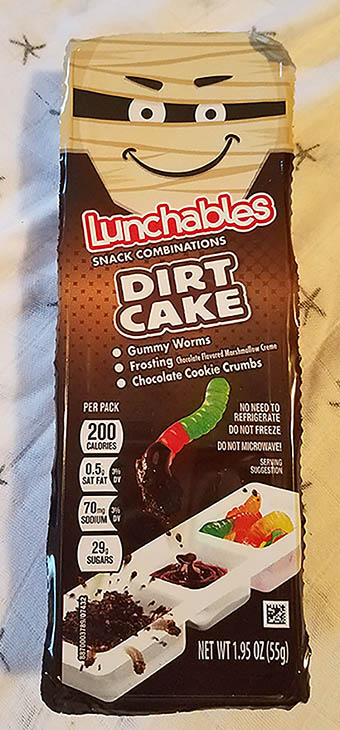 Up next is the holiday dirt cake. Gummy worms, frosting, and chocolate cake crumbles. Now that is a snack. Plus the worms and dirt really meld well with the imagery of the mummy on the front. This is pure Halloween.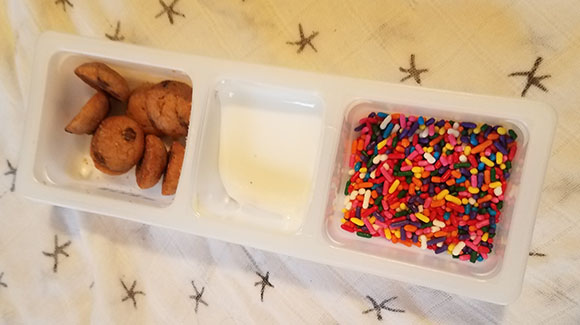 As far as the snack value goes, while I am a big fan of gummy worms, I never cared for the gummy-chocolate mix. If you're old enough, you might remember that chocolate dipped gummy bears were a thing back in the 80s. It was something you could spend good money on at the sweet shop in the mall, a sort of 80s futuristic twist on chocolate dipped strawberries. But even though I loved my candy back in the day, I always considered them to be a waste of both chocolate and gummy bears and these give off much of the same vibe.
But that's not to say we didn't enjoy dipping the worms in mud and dirt. These definitely have the highest entertainment value of the three.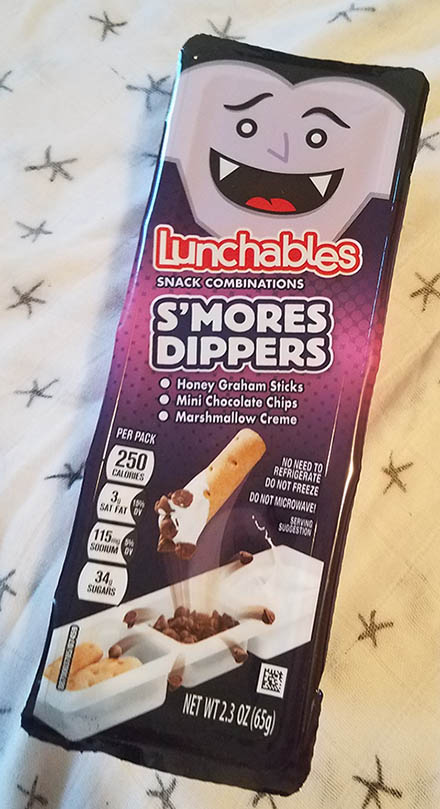 The S'mores Dippers proved to be the best tasting of the group. Honey graham sticks and marshmallow creme- yummy. As a broke college student me and my roomates would have Nutella and graham crackers as an occasional treat and these sorta took me back for a bit. Though they put a vampire on the front and they missed the opportunity to call them honey graham stakes. Someone was clearly asleep at the wheel.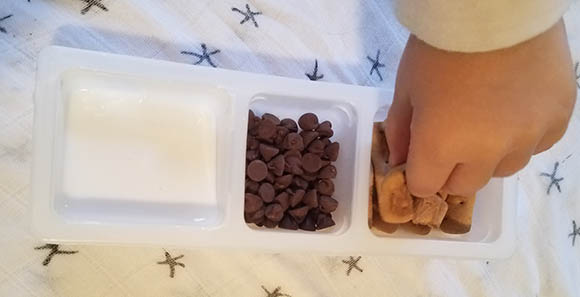 My 3yo daughter loved these (and no, eating stuff like this is not a regular thing in our house). Eating them was second only to practicing her skills as an aspiring hand model.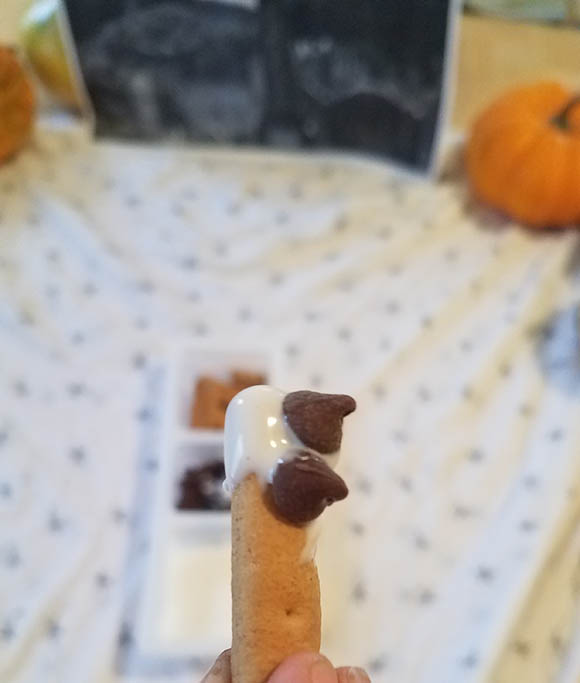 These are fun, but I can't imagine really having more than a bite or two of any of these because they are extremely sweet. Joey Lawrence and Melissa Joan Hart make another Hallmark Christmas movie where he's a single dad and she's struggling to make her greeting card writing business work level of sweet. So so sweet.
But, on the plus side, they retail for around a buck a piece, so you don't have to feel too guilty if you only have a bite or two.
For me, making posts like this is more about spending time with my daughter than the products. We take some time to select a background to print, clear our table, and discuss each product as we photograph it. Sure, the pictures may be blurry, and maybe I'm short on words when it comes to prepackaged Halloween snacks, but it adds that little extra bit of ambiance to our autumns- and I hope she remembers these times fondly when she's grown.
I think that those childhood memories of good family time are what drive the nostalgia and joy that surround the holidays.
I truly hope you're enjoying Halloween as much as I am this year.
comments powered by

Disqus