Paint a Dinosaur NES Style
I don't know how I found this page on youtube, but Aqualung has managed to take away a good two hours of my life with his wryly hysterical reviews of classic NES games.
If you've got some time to kill and feel a bit nostalgic, check out his other reviews
Here at Youtube
.


Comments / Permalink
---
Voltron: Defender of the Universe
As with most things on the web, I'm sure that I'm the last person on Earth to find out about this, but Hulu currently has both seasons of Voltron: Defender of the Universe online for Free.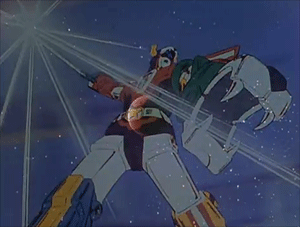 I stumbled across it last night looking for my daily Conan fix only to realize it was Monday and I'd have to wait (it's a sad day when you no longer stay up late enough for the late show, but that's another story).
Not only was Voltron an awesome cartoon, the toy was the holy grail.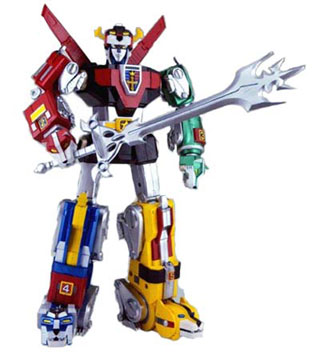 The Defender of the Universe ( the lion version of Voltron ) was absolutely amazing. I was lucky enough to receive one as a gift from my grandparents and it proved to be a formidable weapon during those neighborhood action figure battles.
By formidable I should really say it was a trump card. "Your transformers were all just killed by Voltron. Look, you can't argue, giant robot lion with a sword clearly defeats your robot that turns into a cassette recorder, hands down."
The Voltron argument was also highly effective against any GI Joe, MASK, Go-Bot, Star Wars, He-Man offensive. It's only weakness might have been the Robotech Skull Fighter, but we're still working out the finer details 20 some odd years later.
At any rate, be sure to check out these classic episodes on
Hulu
before they're gone while we work on some new scintillating stories.


Comments / Permalink
---
From the Archives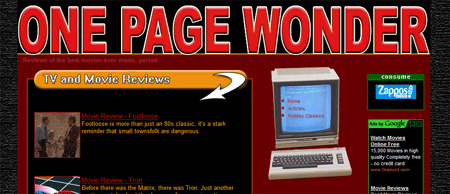 I was looking through some old folders on the server and realized that there are now quite a few lost stories that don't really come up on the site. There are some that I'll reincorporate to the site, some that are best left forgotten, and some that I'll provide some links to. One of the odd things about having a blog/site is that it makes you how quickly time flies.
So without further ado, here are some of past articles that people who read this site (yes, both of you) may be interested in reading:
Well, I'm trying to do better with the site, so stay tuned for a larger, more random assortment of articles and updates.


Comments / Permalink
---
An Oasis
The weather was even warmer this weekend, so a little spontaneous camping was in order. It was one of those last minute decisions where we probably spent more time weighing our options that it took to actually swing by the grocery store and head out to the gorge to find a spot. To my surprise, we the campgrounds were dead over the weekend and we did not have any trouble finding a really nice site at Herman Creek...
We did a little hike Saturday morning and walked down to Herman Creek. Like everything else in the gorge, getting there means walking uphill. In this case, the creek was a nice little surprise after going a couple miles on a hot day.

Herman Creek
It's interesting how quickly the temperature drops when you walk down into a chasm like this. Everything just cooled down, and Gertie even jumped in for a little swim. Definitely a reward for hiking on a warm day.
I think we'll be doing a lot of camping this Summer...


Comments / Permalink
---
Halloween Extravaganza 2008

While walking Gertie this morning, I noticed that the leaves were starting to change and that can mean only one thing...it's almost time for Halloween Extravaganza 2008. We're busy working on some great new reviews for this year, but in the meantime, you can get your pre-Halloween fix with some of my favorites from years past:


Comments / Permalink
---
More Posts