Long before Knott's was bought out, they made much more of an effort to make it a true theme park as opposed to your run of the mill thrill rides and tank tops type of amusement park. Sadly, those days are gone, but thanks to the wonders of the internet, we can still look back at some of the park's great rides.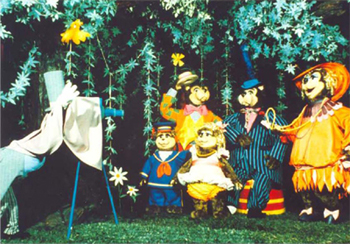 Bear-y Tales was a long standing favorite of mine as a child. It was the quintessential dark ride that told the story of a family of bears, coyotes, and a gypsy camp. The bears baked pies and they even went so far as to make the ride smell delicious, which is probably why I enjoyed it so much.
Well, all good things come to an end and the folks at Knott's replaced Bear-y Tales with Kingdom of the Dinosaurs, which was a great ride until they implemented some new safety regulations that caused it to stop every ten minutes. They tried to overcome the incessant pauses with a narrative on paleontology, but you can probably imagine how well that went over.
At any rate, I'm leaving you with this wonderful home made ride through of Bear-y Tales on what I am led to believe is the last day the ride was in operation. And, in case you're wondering, the current spot that once featured these great rides is still sitting vacant after all these years...